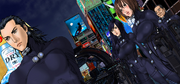 A Gantz "full 3DGC" anime movie has been announced for 2016 in the December 2015 issue of Miracle Jump as it's part of
Gantz:Next Project
.
[1]
Judging from the first screenshots, the movie, or part of it, seems to be set in Osaka. It is speculated that it will cover the Osaka arc.[2]
The Gantz:X website has two articles for the movie, the first one including a quote by Oku, the second one including an interview, both expressing high expectations for the movie.
References
Edit
Ad blocker interference detected!
Wikia is a free-to-use site that makes money from advertising. We have a modified experience for viewers using ad blockers

Wikia is not accessible if you've made further modifications. Remove the custom ad blocker rule(s) and the page will load as expected.