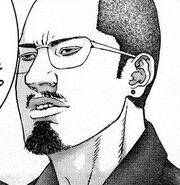 Yoshiharu Ueda first appears in the room before the
Ring Alien Mission
.
After putting on the suit he is transported to Roppongi he fights one of the eight aliens and is hit. Not realizing his suit is now damaged, he becomes convinced that he is dreaming and that he can win, Daizaemon Kaze intervenes, taking care of the alien himself, undoubtedly saving Ueda's life, however Ueda is later killed. His friend states that his head exploded and that he did not leave the area.
Ueda was killed after Tae Kojima, a bystander taking pictures unknowingly took a picture of him, resulting in Gantz killing him.
After his death, the woman who appeared alongside the five new recruits revealed that they raped her before they died in a car crash.
Ad blocker interference detected!
Wikia is a free-to-use site that makes money from advertising. We have a modified experience for viewers using ad blockers

Wikia is not accessible if you've made further modifications. Remove the custom ad blocker rule(s) and the page will load as expected.